Motoi Sakuraba (桜庭統)
·
Style
·
Career
·
Arranged Works
·
Online Interviews
---
Motoi Sakuraba (桜庭統)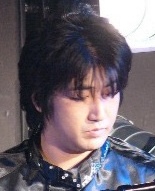 Motoi Sakuraba has composed and performed music for various Japanese video games, anime series, and TV dramas as well as independent albums and concerts. He was born on 5th of August in 1965 in Akita Prefecture, attended the Meiji University in Tokyo from 1983 to 1985, is married to Yuko Sakuraba, and has a young daughter, Mio Sakuraba.
Motoi Sakuraba takes the pompous and melodic Japanese progressive rock of the 1980's and expand them with his own trademark complex rhythms, emotional flutes, orchestral chords, abuse of male choir and heavy reverb. While his melody and harmony structures are highly influenced by the baroque Bach music, his music arrangements are in a clear performing style with each instrument individually pronounced in a way not unlike live jazz, independent from the final media which makes his music enjoyable even on systems with low quality audio. The lighter side of his style in a crossover between symphonic progressive rock, cinematic orchestra and new age. Sakuraba is considered being one of the best progressive rock keyboard players with a quite astonsihing awesome live performing skill (as can be witnessed on the DVD release of his Star Ocean and Valkyrie Profile live concert), introducing many jazz alike improvisations to his music style. While generally very stable with regard to his style he made serious and well working efforts expanding his style even further in recent years.
At the Meiji University Motoi Sakuraba played and composed music at the university's progressive rock club, in a voluntary band called Clashed Ice together with his fellow student Genta Kudo. After graduating in 1985 they were discovered by music producer Numero Ueno and broke into the commercial music scene as the progressive rock band Deja-Vu, which released an album, Baroque in the Future, in 1988 and took part in many live and recording projects with progressive rock bands, one of the last being the effort good enough to see a live compilation, Crime Syndicate. The band disbanded in 1989 over a dispute about development of the second album which was in progress at that time. The same year, Sakuraba went to create the tribute album called Pazzo Fanfano di Musica. And with him he had several other artists from the same record company, Crime. Sakuraba went on to release a solo progressive rock album, Gikyoku Onsou, in 1990. During his work as video game composer he continued to produce heavily extended arrangements of his own video game compositions.
Late 1989, Sakuraba began work as main for Wolfteam, first as a member of the Sergeant Wolf band together with Masaaki Uno and Yasunori Shiono, and later together with Shinji Tamura. In 1994, Masaaki Uno, who was not only composer, but also director and producer at Wolfteam, left to Camelot Software Planning and worked as coordinator and sound director there, up to now employing Sakuraba as exclusive composer and arranger for all Camelot games developed for Sony, Sega and Nintendo. In 1995, Wolfteam developed the break through game Tales of Phantasia for Namco, starting the third most successful video game series in Japan behind Dragon Quest and Final Fantasy. Wolfteam continued to develop games for Namco in the Tales series while keeping Sakuraba and the other Wolfteam composer Shinji Tamura as composers, until it morphed into the Namco Telenet joint subsidiary Namco Tales Studio in 2003. Meanwhile Tales of Phantasia writer and programmer Yoshiharu Gotanda, game designer Masaki Norimoto as well as former Wolfteam director and producer Joe Asanuma left Wolfteam and founded tri-Ace with financial backing of Enix, creating the Star Ocean series as well as Valkyrie Profile and, again, employing Sakuraba as exclusive composer and arranger for all games (except the second development staff's Radiata Stories). In 1999, long time Sakuraba sound designer and programmer Hiroya Hatsushiba, former member of Wolfteam and tri-Ace, founded tri-Crescendo while continuing to contribute sound work to tri-Ace games. In 2001, tri-Crescendo started working on Baten Kaitos together with Monolith and with financial backing of Namco, Hatsushiba as director and main programmer and Sakuraba, you guessed it, again as composer and arranger. Since then Baten Katos 2 by the same staff came out in 2006 on the same system.
He made several guest contributions to @MIDI's People by tri_ace president Gotanda. During the work at tri-Ace he also got to know Taku Kitahara who then produces his tri-Ace related soundtracks and arranged albums, then was thanked in Shin Megami Tensei Devil Children Arrange and produced remixes for Famicom 20th Anniversary Arrange, Dark Cronicle Premium Arrange and Phantasy Star Online Episode 1 & 2 Premium Arrange, as well as TV Tokyo (テレビ東京)'s Pluster World in 2003. Enix arranged Sakuraba's involvement with TV Tokyo's Genso-Maden Saiyuki in 2000 and TV Tokyo's Star Ocean EX in 2001. The latter was sound produced by Hiromi Kikuta (菊田浩巳) who then also sound produced Kids Station (キッズステーション)'s Weißkreuz Glühen in 2002. Kids Station's game department then produced Duel Masters: Birth of Super Dragon. Tenshou Gakuen Gekkouroku by Asmik Ace is currently in the working.
At TV Asahi (テレビ朝日) his contact apparently is Go Nakajima (中嶋豪), who produced the Weekend Drama Series for which Sakuraba started composing in late 1996. Sakuraba composed music for eight such story blocks until 1999, of which the 6th, Cyber Bi-Shoujo Telomere, is the only one to receive a soundtrack release. In 1999 he furthermore composed TV Asahi's longer Vanny Knights drama series. Currently running is Atashi n' Chi which started in 2002. How they came in contact remains unknown for now. (» tv/movie staff listings with Sakuraba)
Through the work on Vanny Knights he apparently got in touch with graphic artist Haruhiko Mikimoto (美樹本晴彦) which led to the work on GAGA Communications' CGI movie Blue Remains in 2000.
During July 2003, Sakuraba held a live concert in Tokyo, Japan. He performed progressive rock interpretations of music from the PlayStation games Star Ocean 2 & 3 as well as Valkyrie Profile, of which a CD and DVD recording exists. He performed his live concert 2004 in August 2004 playing music from Star Ocean 3, Valkyrie Profile and Baten Kaitos, this time unfortunately without a recording.
As arranged works we refer to those of Sakuraba's game music work which are not produced by a game system synthesizer but with higher quality synthesizer or real instruments played live and recorded in a studio, played by one or several musicians.
During the early time at Wolfteam when original game soundtracks were released all of them got additional arrange treatments for a selection of tracks. Those are Arcus 2: Silent Symphony, Zan: Kagerou no Toki, FZ Series "AXIS" and Maneuver Cepter "GRANADA". Later Wolfteam also released Sega Mega CD games containing CD audio, which Sol-Feace, Fhey Area: Century of the Gods, Earnest Evan, Annet Futatabi and Devastator made use of.
The stream of arranged work releases however really started with his work for Camelot Software Planning: Beyond the Beyond Original Soundtrack, Shining the Holy Ark Original Soundtrack and Shining Force 3 Original Soundtrack/Force of Light were accompanying the game releases until that stopped when Camelot started to work for Nintendo. The stream was continued by tri-Ace which even expanded the amount of related soundtrack releases with each subsequent game release: The Star Ocean Second Story Arrange marks the beginning, Valkyrie Profile Arrange is joined by Valkyrie Profile Voice Mix, and with Star Ocean Blue Sphere a Game Boy game gets an arrangement treatment.
Today studio recording is more and more used for the in-game music again, resulting in five separate CD release for Star Ocean: Till the End of Time with seven CD's. Baten Kaitos receives a similarly high quality two CD's soundtrack release.